November 9, 2016
The General Assembly's Joint Commission on Health Care on Wednesday recommended making no changes to the state's regulations on possible exemptions, including religious reasons, for otherwise-mandatory school vaccinations.
The decision came after the commission received more than 700 comments on the subject, the majority of which were in favor of taking no action.
The issue was brought before the commission at the bequest of Dels. Eileen Filler-Corn, D-Fairfax, and Christopher P. Stolle, R-Virginia Beach, who introduced a bill during the most recent General Assembly session that would have removed religious exemptions as a valid reason not to have a child vaccinated.
Filler-Corn and Stolle struck the bill and requested the commission research whether non-medical exemptions should be tightened.
The bill received a great deal of attention from those against mandatory vaccinations, most of whom wore red to Wednesday's meeting, which was held at the General Assembly building in downtown Richmond. Some in red wore T-shirts and hats supporting President-elect Donald Trump.
Most brought their children with them, and one young boy held a sign that said: "Vote 'No' to Mandatory Vaccines." When the commission recommended taking no action, the crowd cheered.
The commission was created in 1992 with the purpose of recommending and researching medical decisions to ensure Virginia adopts "the most cost-effective and efficacious" health care policies, according to the state code.
The body does not make final decisions on legislation, and its decisions are considered recommendations that the General Assembly will take into account during its next session.
Among those in favor of making no changes to immunization exclusions was the Virginia Department of Health, which stated that "the low exemption rates and relatively high vaccine coverage rates and low morbidity from vaccine preventable diseases" made taking no action on the issue an acceptable option, according to commission documents.
On the other side, the American Academy of Pediatrics recommended the commission remove the religious exemption option. Earlier this year, the group updated its official policy to recommend states remove non-medical immunization exemptions.
Also on Wednesday, the commission recommended the Department of Health create a page on its website that explains palliative care.
Palliative care is meant for those with severe illnesses to ease their pain and symptoms. It is not hospice care, though the two terms are sometimes confused, the commission's staff explained during a presentation.
The commission's staff found that the information on one website may not match the information on another, and commission members agreed that one definitive explanation of palliative care would be beneficial to Virginians.
Also discussed during Wednesday's meeting was another option to provide the Department of Health with $120,506 to create a Palliative Care and Quality of Life Advisory Council, in addition to a website.
But commission members seemed hesitant to recommend an option that included additional funding.
Virginia lawmakers will have to close a $654 million budget shortfall in the next fiscal year.
"Who will carry the budget amendment?" commission member Del. John M. O'Bannon III, R-Henrico, asked, and his comment was met with laughs from other members of the commission.
Temperature dips between massive two-day event.

With more than just a few degrees Fahrenheit separating Sept. 10 and 11, the two days of the annual Burke Centre Festival, the massive community event once again signaled the end of summer and beginning of fall in more ways than one.
#"It always seems to kick off fall," said former Burke resident Jim Miller, who was demonstrating traditional Okinawan Karate from a Burke Centre Conservancy class.
#"I like the community aspect of it -- so many different cultures enjoying themselves," Miller said.
#Miller's booth was just one of more than a dozen outreach booths at the festival, that included local politicians, churches and temples, and Fairfax County government and services.
#There were also around a dozen each of food vendors and sponsor booths, and about 100 crafters.
#One fairgoer of Burke said she likes that families have a chance to "see police officers and firefighters as a more friendly aspect" at their vendor booths.
#The Burke Veterans of Foreign Wars, local Boy Scouts troop members and politicians supervisor John Cook (R-Braddock), Del. Eileen Filler-Corn (D-41) and Rep. Gerry Connolly participated in a patriotic opening ceremony for the festival, which fell on the weekend of September 11.
#The festival was organized by the Burke Centre Conservancy. For more information, visit www.burkecentreweb.com or call 703-978-2928.
DMV Expands Range of Services
TSA Pre✓® and Transportation Worker Identification Credentials (TWIC) available at DMV's Tysons Corner office.
Delegate Eileen Filler-Corn (D-41) joined Virginia Department of Motor Vehicles (DMV) Commissioner Richard D. Holcomb and Virginia legislators at a ribbon cutting for a groundbreaking customer service initiative. The Virginia Department of Motor Vehicles (DMV) is partnering with the Transportation Security Administration's vendor MorphoTrust USA to offer TSA Pre✓® and Transportation Worker Identification Credentials (TWIC) at DMV's Tysons Corner office. 
#TSA Pre✓® offers travelers expedited security screening at select airports across the United States. TWIC provides workers access to secure areas of the nation's maritime facilities. These important, secure services allow convenient access to safe travel and transport, as well as increasing opportunities for Virginia's diverse workforce.
#"I have been thinking about enrolling in TSA Pre✓® for a while now, and it's exciting to be able to do so simply by visiting the neighborhood DMV," said Del. Filler-Corn, a member of the House of Delegates Transportation Committee as well as a member of the Joint Commission on Transportation Accountability, while addressing attendees of the ribbon cutting.
#Virginia is the first state in the nation to offer TSA Pre✓® and TWIC at select DMV offices around the state. Legislation effective July 1, 2016 enables Virginia DMV to partner with contractors of federal government agencies to offer federal services through DMV. By the end of the year, nine DMV offices across the Commonwealth will offer the services, with a tenth to open in 2017.
#In addition to TSA Pre✓® and TWIC services, DMV partners with other state agencies to offer E-ZPass services at several northern Virginia locations, fishing and hunting licenses, and certified copies of Virginia vital records at all 74 customer service centers and five mobile offices across the state. Instead of traveling to the Division of Vital Records in Richmond, or requesting certificates by mail, customers can obtain their Virginia birth, marriage, divorce, and death certificates on-the-spot at DMV.
#"DMV is much more than a place to renew your driver's license or vehicle registration," explained Commissioner Holcomb. "DMV is always working to expand its portfolio of product offerings. It's important that we bring services to you when you need them."
Delegate Filler-Corn Honored by the Autism Society
On Tuesday, Aug. 16, the Autism Society of Northern Virginia (ASNV) honored Del. Eileen Filler-Corn (D-41) with the Community Builder of the Year Award during ASNV's Annual Wine and Dine for Autism event. This award recognizes those who have had a significant positive impact on the autism community.
ASNV chose to honor Filler-Corn for her work in making the Achieving a Better Life Experience (ABLE) Act a reality in the Commonwealth. Her 2015 bill created "ABLE" Accounts, similar to the 529 college savings accounts, which would allow for those with disabilities as well as their families to save money for various needs including housing, education and medical care. Virginia was the first state to pass such legislation since the passage of the federal act. This past session, Del. Filler-Corn introduced and passed legislation that would ensure these same accounts would be free of means testing. In addition, she also worked with the Governor this year to ensure that the biennial budget included a $2000 income tax deduction for contributions to the ABLE savings accounts starting in Taxable Year 2016.
Addressing the crowd, Filler-Corn spoke of how the ABLE Act came to be, adding with pride that the idea came from constituents in her district. "Stephen Beck and his wife Catherine are parents of a child with Down syndrome and they worried for years about how they would care for Natalie when she was older and they were unable to provide the day to day support they were once able to provide. While sitting at their kitchen table they developed the idea for the [federal] ABLE Act," said Filler-Corn "After years of advocating and working for its passage at the federal and state level, Catherine and Stephen's hard work as well as the work of so many others paid off. While unfortunately Stephen is no longer with us, his work with Catherine will live on in these ABLE accounts, which will help countless Virginians for years to come."
"Overall, it was an incredible evening with fabulous people all committed to make a difference. There was an impressive speech by Connor Cummings, the namesake of Connor's Law, who I had the opportunity to meet in Richmond last year as he advocated in support of legislation. Amazing musical entertainment as well by several incredibly talented individuals including my constituent Jake Sizemore, from Burke, who teaches us that we should look for the talent in everybody," she said.
Burke, Mount Vernon: Copperthite Race Track Receives Historical Marker
2,000-person grandstand once stood in Burke.
More than 100 years since Copperthite Race Track opened in Burke, harnessed race horses once again trotted back and forth on the same grounds, now inhabited by the Burke Nursery and Garden Centre.
The race track, including a 2,000-person grandstand, was built by local entrepreneur Henry Copperthite. Elected officials, community members and seven generations of the Copperthite family came together July 31 for a celebration around unveiling of a Fairfax County historical marker for the track.
"In 1897, Henry Copperthite purchased the Silas Burke Farm and constructed nearby one of Virginia's finest harness racing facilities," the marker reads. "The racetrack, whose grandstand sat 2,000, opened on July 4, 1908. Horse, harness, motorcycle and car races were featured at the track. Special trains from the Washington, D.C. area brought visitors to Burke, where they could stay at the new hotel. Families enjoyed agricultural fairs, Fort Myer cavalry drills, balloon ascensions, baseball games, athletic contests and dances at a pavilion. For almost a decade, thousands were entertained at the Copperthite racetrack and fairground."
Copperthite's great great grandson Mike Copperthite lives in McLean and is proprietor of the family business Henry started, the Connecticut Copperthite Pie Baking Company of Georgetown. Mike Copperthite has spent the last four years working on getting the marker erected.
The Copperthite pie business was once the largest of its time, Mike Copperthite said, with 15,000 employees putting out 50,000 pies a day.
Debbie Robinson, chair of the historical marker committee, said in order for their to be a marker, it was important for Mike Copperthite and his supporters do extensive research of primary source documents and prove all the facts. The marker text, as a result, is heavily footnoted, drawing from period newspapers including "The Washington Post," "The Sunday Star" and "The Alexandria Gazette."
"We appreciate what happened in the past, the people who came before us," Robinson said, "and what they did for our communities, like Henry Copperthite."
In addition to the racetrack and grandstand, Copperthite built a hotel, sidewalks and a grocery store.
The morning of the marker unveiling, Mike Copperthite (who was joined by seven generations of the Copperthite family) served 600 of the famous pies out of the back of an original 1914 Ford Model T pie delivery truck.
The vintage vehicle was joined by other period Fords of the Nation's Capital Model T Ford Club, which was celebrating its 50th anniversary. After appearing in Burke, the club members drove to the Fairfax Station Railroad Museum for another viewing.
To give spectators a feel of the harness horse-racing atmosphere, a horse and rider took two eighth of a mile laps on the grass along Burke Road. The running is being submitted for consideration as a record for the longest time between races at the same track.
Del. Eileen Filler-Corn (D-41), who represents the Burke area in the Virginia General Assembly, said she's always interested in learning more about history and was delighted to "share this momentous occasion."
Fairfax County Board of Supervisors Chairman Sharon Bulova said celebrating history in this way helps us "understand what we are," and gives "a better idea of where we want to go, what we want to be."
Making light of the ongoing work of regulating food trucks in Fairfax County, Bulova referenced the 1914 Ford pie delivery truck. "What goes around comes around," she said.
Jon Vrana, president of the Burke Historical Society, commented that in this area, there tends to be more focus on the Civil War-era history rather than turn of the century.
"The world was changing," Vrana said. "This shows this area has rich history across the spectrum. It extends the understanding of the variety and diverse history we have in Fairfax."
Governing Institute Announces Women in Government Leadership Class of 2017
Twenty-Five New Participants Selected for the Yearlong Program Designed to Promote and Support Elected Women Leaders From Across the Nation
WASHINGTON, DC--(Marketwired - August 02, 2016) - The United States is one of the worst-performing developed countries in the world when it comes to the number of women in politics.* Since 2000, the nationwide percentage of women in state legislatures has stagnated, and the 2010 election saw a decline in the number of women in Congress. In an effort to help encourage and support women in government, the Governing Institute today announced the 25 members of the Women in Government Leadership Program Class of 2017.
Governing Institute's Women in Government Leadership Program brings together outstanding elected women leaders from across the nation to acknowledge their contributions, provide leadership development, and to mentor the next generation of women leaders to run for office. The first two classes completed their yearlong curriculums in 2015 and 2016, respectively. The 50 alumnae of the program are now "paying it forward" recruiting women candidates around the U.S.
"The issue of parity is important for women, for families, for our economy and for the country. We are woefully behind other nations in terms of gender equality," said Cathilea Robinett, president of Governing and e.Republic. "Women at the state and local level in both parties need and deserve our support, which is why we launched the Women in Government Leadership Program. Our goal is to build a powerful, national network of state and local elected women leaders."
More than 125 women were nominated for the Class of 2017. The class was selected based on career and educational accomplishments, recommendations, a commitment to actively participate and the goal of seating a diverse class in a number of categories. Each class also includes one rising star, a young woman not yet serving in elected office, but with the interest and potential to run in the future.
The first member of the Class of 2017, California State Sen. Holly J. Mitchell, was selected last month as the State Legislative Leaders Foundation (SLLF) Lois M. DeBerry Scholar. The annual scholarship acknowledges the pioneering work of Rep. DeBerry of Tennessee and encourages recipients to carry the spirit of leadership forward in support of women in elected office as Rep. DeBerry did for 41 years in the Tennessee House of Representatives.
"The women in the Class of 2017 are among the most influential and devoted elected leaders in state and local government," said Julia Burrows, director of the Governing Institute. "Each year, the program adds to a national collaborative, with 25 new members who establish deep friendships, support their respective campaigns and recruit future female candidates. The common goals of gender parity and better governance forge a bond that rises above partisanship and will pay dividends for literally generations into the future."
Women in Government Leadership Program Class of 2017
The Women in Government Leadership Program Class of 2017 includes women from 19 different states holding a variety of elected offices in state and local government.
The Honorable Diane Allen
New Jersey State Senator
The Honorable Megan Barry
Mayor, Nashville, Tennessee
The Honorable Ruby Brabo
Supervisor, King George County, Virginia
The Honorable Cynthia I. Cloud
Wyoming State Auditor
The Honorable Suzanne Crouch
Indiana State Auditor
The Honorable Debra M. Davis
Commissioner, Charles County, Maryland
The Honorable Eileen Filler-Corn
Virginia State Delegate
The Honorable Karen Freeman-Wilson
Mayor, Gary, Indiana
The Honorable Cindy Hyde-Smith
Mississippi Commissioner of Agriculture & Commerce
The Honorable Tameika Isaac Devine
Councilwoman, Columbia, South Carolina
The Honorable Teresa Jacobs
Mayor, Orange County, Florida
The Honorable Merceria L. Ludgood
Commissioner, Mobile County, Alabama
The Honorable Lydia L. Mihalik
Mayor, Findlay, Ohio
The Honorable Holly J. Mitchell
California State Senator
SLLF Lois M. DeBerry Scholar
The Honorable Cherelle L. Parker
Councilwoman, Philadelphia, Pennsylvania
The Honorable Deb Peters
South Dakota State Senator
The Honorable Toni Preckwinkle
Board President, Cook County, Illinois
The Honorable Julie Stokes
Louisiana State Representative
The Honorable Crystal Rhoades
Nebraska Public Services Commissioner
The Honorable Nily Rozic
New York State Assemblywoman
The Honorable Evelyn Sanguinetti
Illinois Lieutenant Governor
The Honorable Hillary Schieve
Mayor, Reno, Nevada
The Honorable Chelsa Wagner
Controller, Allegheny County, Pennsylvania
The Honorable Betty T. Yee
California State Controller
Rising Star
Nicole Cid
Deputy District Attorney, Placer County, California
Each class is chosen from nominations submitted online at www.governing.com/wig. Women must be elected to a state or local office and not on the ballot or running unopposed during the program year.
The 25 women in the program's new class will be profiled in the February 2017 issue of Governing magazine and will participate in Governing events throughout the coming year.
The Class of 2017 will gather for their first leadership conference November 13-14 in Chandler, Arizona.
Communities Observe National Night Out
Law enforcement and neighborhoods come together in Fairfax Station, Springfield and countywide.
Every night, that's seven nights a week, Amanda Fox and her mother make rounds of the 169 houses in their community of Cardinal Estates in Springfield.
Fox is captain of the neighborhood watch. On National Night Out, however, she's walking around handing out glow-sticks while neighborhood children, parents and police officers watch "Zootopia" on a giant inflatable screen.
First responders from Fairfax County Police, Fire and Rescue, the Sheriff's Office, Virginia State Police and other first responders spent the night on Aug. 2 visiting special events being held in their communities.
The goal is to promote interaction, respect and trust between the various agencies and the people they're sworn to protect. And to remind and help educate community members to be more vigilant and aware of their surroundings.
"It's great to get the community actively involved, aware of crime," Fox said. "We have dog-walkers, runners, people out and about. If you see something, call it in."
Captain Gervais T. Reed is Commander of the West Springfield District Station for Fairfax County Police. He took over at the beginning of July, though he's been with the department for 26 years.
Speaking at another National Night Out gathering in the Crosspointe neighborhood of Fairfax Station, he said the special event is the department's "number one crime prevention effort."
"It's more eyes and ears out there," he said in an interview.
Reed called National Night Out a "tremendous opportunity for the community to come out and show strong ties."
"We get wonderful support in Fairfax," he continued. "We've always had a really good relationship, we've never taken that for granted. In some communities it's a challenge, but it's not here."
Gary Saturen, neighborhood watch coordinator for Crosspointe, is with the Community Emergency Response Team that put on the event in that neighborhood. It included demonstrations of first aid and CPR, and the Sheriff's office creating safety identification cards for children.
Saturen said he really likes the chance for people to interact with the public safety infrastructure.
"They're human beings like the rest of us," he said. "They support us, we support them, everyone's happier for it."
Supervisor Pat Herrity,R-Springfield, toured half a dozen different events with Captain Reed. He's been attending National Night Out events since he was elected in 2008. That community support "is part of what makes Fairfax County great," he said. "We learn what issues are happening, crime and otherwise, and remind people they have a supervisor," Herrity added. "We all get to hear what's important for them."
Burke and Springfield: AARP Campaign Office Opens in Springfield
On Wednesday, July 6, Delegates Eileen Filler-Corn (D-41) and Dave Albo (R-42) helped kick off the opening of the American Association of Retired Persons's "Take a Stand" Campaign Headquarters in Springfield. The campaign is an effort to make Social Security, which provides vital income to more than 1.4 million Virginians, stronger for future generations.
"Take a Stand," demands on behalf of all voters that presidential candidates take a stand on their plans to update Social Security. The campaign will spread its message through advertising, social media, grassroots outreach and publications. At the new campaign headquarters, AARP Virginia volunteers will be making calls to discuss with voters the need to update Social Security and encourage candidates to take a position on keeping this program solvent for future generations. Filler-Corn and Albo both participated in a ceremonial ribbon cutting in front of the office.
Filler-Corn and Albo, along with AARP Virginia's State Director Jim Dau spoke at the event. Filler-Corn said that Social Security must be strengthened for the future, pointing out that one in six Virginians receive a monthly check from the program. "Every American deserves a secure, healthy and dignified retirement," Filler-Corn said. "Social Security must be kept strong for seniors, people with disabilities, and future generations."
Dau told the crowd gathered at the ribbon-cutting of the Take a Stand Springfield office that Virginia voters – key in the upcoming presidential election – want to hear the candidates talk more about Social Security on the campaign trail. "AARP Virginia and our more than million members here in the Commonwealth think doing nothing is not an option, and we're here to do something about it," he said.
President Franklin D. Roosevelt signed the Social Security Act into law in 1935. The program will celebrate 81 years of existence this August. "Social Security is the most successful anti-poverty program in American History. We must do all we can to protect it," said Filler-Corn.
Burke and Springfield: McAuliffe Signs High School Curriculum Bill Into Law
On Monday, June 13, Governor Terry McAuliffe signed Delegate Eileen Filler-Corn's (D-41) bill, HB 659 in the State Capitol in Richmond. HB 659 will require high-school family-life curricula to include awareness, understanding and prevention of dating violence, domestic abuse, sexual harassment and sexual violence.
"This bill focuses on prevention," says Filler-Corn. "We need to educate our youth at a younger age. Silence is not an option. We cannot expect them to wait to learn about dating violence, domestic abuse, sexual harassment and sexual violence in college. We need to teach them earlier."
Filler-Corn was flanked by leading voices in the fight against campus and domestic sexual assault including: Gil Harrington, co-founder of Help Save the Next Girl and mother of Morgan Harrington, who was tragically murdered in 2009; Trina Murphy, aunt of Alexis Murphy, who disappeared in 2013 in Nelson County and whose body was never found; and Annie Clark, executive director and co-founder of End Rape on Campus, an organization seeking to end campus sexual violence through direct support for survivors; prevention through education; and meaningful policy reform. "This bill will save more lives," said Harrington, immediately following the bill signing.
Delegate Filler-Corn's bill, HB 659, had both Democratic and Republican co-patrons and passed unanimously out of the House of Delegates and near unanimously out of the Senate during the 2016 General Assembly Session. It will take effect on July 1, 2016.
Burke and Springfield: Saving ABLE Savings Accounts

On Friday, June 10, Governor Terry McAuliffe and Del. Eileen Filler-Corn (D-41) joined Special Olympics Virginia's Opening Ceremonies to ceremonially sign Delegate Filler-Corn's bill, HB 1103, into law. HB 1103 builds upon Filler-Corn's 2015 legislation, the Virginia Achieving a Better Life Experience (ABLE) Act, which created 529 savings accounts for people with disabilities (called ABLE accounts) similar to those used to save for college. HB 1103 ensures that these ABLE Accounts will be free of means testing at the state level.
"After meeting with Virginia 529 last fall, I found out that while Virginia ABLE accounts would be exempt from federal means testing, they could be subject to state means testing. If we didn't act, some families might decide to avoid ABLE accounts and their advantages for fear of an adverse impact on eligibility for critical state benefits programs," said Filler-Corn. "This outcome would circumvent the intent of both the federal and state ABLE legislation and fail to assist the very individuals intended to benefit from ABLE accounts. That's why I introduced HB 1103."
Governor McAuliffe and Delegate Filler-Corn have also announced that the 2016-2018 budget includes an income tax deduction for contributions to the ABLE savings accounts starting in Taxable Year 2016 – up to $2,000 per contributor. "While the 2015 ABLE Act was a significant and bi-partisan victory, I knew that we could do better. We could make this program one of the shining examples for the rest of the country," added Filler-Corn.
Filler-Corn was joined by many stakeholders who advocated for the passage of both the 2015 and 2016 legislation including Catherine Beck and her daughter Natalie. The Becks are residents of the 41st House District—represented by Filler-Corn. The federal ABLE law is also named for Catherine's late husband, Stephen who was a driving force for the federal law.
ABLE Accounts will be available for Virginians with disabilities later this year; however, the website where people can eventually open these savings accounts is already live. Those who are interested in finding out more about ABLE accounts can visit https://www.able-now.com.
Honoring Fallen in Springfield
Delegate Eileen Filler-Corn (D-41) honored those who made the ultimate sacrifice. Filler-Corn participated in several Memorial Day events over Memorial Day Weekend. On Friday, Filler-Corn joined with Delegate Vivian Watts (D-39) to commemorate Memorial Day with the Greater Springfield Chamber of Commerce at the American Legion Post 176.
Those in attendance watched as members of the American Legion laid a wreath to honor the memory of all veterans in the Greater Springfield area. Addressing the veterans and active duty military members in attendance, Filler-Corn said, "You are truly heroes and your commitment to your country deserves the highest recognition and appreciation."
Filler-Corn states that having a large military population in her district has encouraged her to both introduce and co-sponsor military and veteran friendly legislation during her tenure in the House of Delegates. In addition to co-sponsoring several military friendly measures this past General Assembly Session, in 2015, Filler-Corn introduced and passed a bill (now law) that reduces from 30 to 20 days the allowable application review period after which a regulatory board within the Department of Professional and Occupational Regulation or the Department of Health Professions among others will be required to issue a temporary license to certain military spouses while the board completes its review.
Filler-Corn believes that this law will be beneficial to the many military spouses who leave their careers behind when their spouse gets transferred. Filler-Corn concluded by stating how proud she is to be a member of the General Assembly Military and Veterans Caucus which advocates for the interests of Virginia's Veterans and Military communities.
Memorial Day 2016 Observed at Burke Centre Conservancy
Piper Matthew Kuldell led the color guard -- members of the Veterans of Foreign Wars Post 5412 and Boy Scout Troop 1345 -- into the area of the Burke Centre Conservancy on May 31 to begin the observance of Memorial Day.
Friends, families and supporters of military men and women who gave the ultimate sacrifice for their country sat on folder chairs set up on the Conservancy's expansive green lawn.
Del. Eileen Filler-Corn (D-41), Supervisor John Cook (R-Braddock) and State Sen. Dave Marsden (D-37) each made remarks. They were joined by keynote speaker Brigadier Gen. Billy D. Thompson, U.S. Air Force.
Gov. McAuliffe Signs Del. Filler-Corn's Legislation Into Law
On Thursday, April 14, Gov. Terry McAuliffe signed several bills into law relating to sexual assault, including legislation related to the storage and testing of physical evidence recovery kits (PERKs), as well as legislation that enables a minor to consent to an evidence recovery examination over the objections of a parent or guardian and Del. Eileen Filler-Corn's (D-41) bill, HB 1102, which promotes collaboration between state agencies and campus law enforcement in the development of trauma-informed training to ensure that survivors of sexual assault receive the support and evidence-based treatment they need.
"From day one, the health and safety of Virginia's women has been a chief priority of our administration. That is why I created and enabled a group of leaders and advocates to offer solutions to enhance the services and protections this Commonwealth offers to survivors of sexual violence," said McAuliffe. "The survivors of these malicious crimes are trusting in us to provide a full accounting of these cases and to bring perpetrators to justice. To ensure their safety, it is vital that we have all areas of law enforcement, government, and private organizations working together. The measures…provide a permanent and coherent solution for that process," he said.
"I'm so proud to have sponsored a bill that will reduce the trauma of survivors by developing training for law enforcement," Filler-Corn said. "The Department of Criminal Justice services and SCHEV working together will greatly improve the lives of survivors of sexual assault." The Delegate from Springfield was also pleased to serve as a co-patron on HB 1160, which establishes procedures for handling evidence kits in sexual assaults, after having introduced a similar bill this past session herself.
All legislation signed by the governor will take effect July 1, 2016.
Del. Filler-Corn Champions New Laws Preventing, Combating Sexual Assault
On Friday, March 11, Del. Eileen Filler-Corn (D-41), flanked by leading voices in the fight against campus and domestic sexual assault participated in a press conference in Richmond on the last day of the 2016 General Assembly session announcing the passage of several bills addressing this issue.
Filler-Corn introduced three bills this session focused on this topic.
*HB 659 will require high school family life curricula on awareness, understanding and prevention of dating violence, domestic abuse, sexual harassment and sexual violence.
*HB 1102 will require the Department of Criminal Justice Services to develop multi-disciplinary curricula on trauma informed sexual assault investigation.
HB 655 was incorporated into HB 1160 (patroned by Del. Rob Bell of Albermarle), relates to the storage of Physical Evidence Recovery Kits (PERKs), ensuring that all PERKs are stored for a minimum of two years or two years from the victim's 18th birthday, if the victim is underage.
"Yes, we had success last year moving the ball forward on these crucial issues," said Filler-Corn referencing related bills she helped shepherd last year, "but the key this session was to shift focus to education and prevention. This year we did exactly that. My hope is that with earlier information, young people can prevent incidents of sexual assault both on campus and in any and all settings."
The sentiment was echoed by several longtime victims' rights advocates who praised the legislation as thoughtful and substantive.
Said Gil Harrington, mother of Morgan Harrington and founder of Help Save the Next Girl, in Richmond on Friday: "I applaud the work of Delegate Filler-Corn. House Bill 659 will teach high school students skills that may actually ensure their very survival in our complex world. House Bill 1102 will train investigators to respond with more compassion and help improve psychological health for victims."
Annie Clark, executive director of End Rape on Campus, termed the education component "a critical first step. If we wait until college orientation to talk about sexual assault, then we are way too late."
She, too, credited the Springfield lawmaker for her leadership on the issue: "End Rape on Campus is so thankful for Delegate Filler-Corn's commitment to ending sexual violence and supporting survivors."
HB 1102 and HB 1160 were among 21 recommendations of a state task force formed by Governor Terry McAuliffe and led by Attorney General Mark R. Herring.
All of the bills have an April 11 deadline for the Governor to either sign, veto or amend.
White Oaks Students Tour the Capitol
On Sunday, February 28th, Delegate Eileen Filler-Corn (D-Springfield) hosted student artists and their families from White Oaks Elementary School in Burke, VA for a reception and capitol tour in Richmond. White Oaks Elementary School Principal Ryan Richardson and White Oaks Art Teacher Susan Mosios were also in attendance.
Since January, the works of these young artists have been displayed on the fourth floor of the General Assembly building, in the hallway leading to Filler-Corn's Richmond office. This is the first time that Filler-Corn has featured artwork from a local elementary school. "I would like this to be an annual event, featuring different schools in the 41st District," Filler-Corn said.
The student artists are a variety of ages and used a variety of mediums in their artwork. Students from second to sixth grade submitted drawings of birds, cityscapes, the solar system, gourds, and even abstract landscapes. The works were selected blind—without knowledge of which student made them, by White Oaks art teachers, Susan Mosios and Erin Perticone. "I was so pleased when Delegate Filler-Corn contacted me about featuring our students' art work in the General Assembly Building," said Mosios.  "It is crucial to encourage the arts at a young age. It broadens a child's understanding of the world," she added.
Delegate Filler-Corn, who also serves as chair of the General Assembly Arts Caucus, was pleased that so many families made the trip down to Richmond. She posed for pictures with many of the student artists as they pointed out their artwork to her and their very proud parents. "You never know who might have walked by these paintings," Filler-Corn explained to the students. "Delegates, Senators, and Cabinet Secretaries have all viewed your beautiful work. You should be so proud of yourselves." 
Following the reception in the General Assembly Building, the entire group, including Delegate Filler-Corn, walked over to the Capitol for an official tour, with a stop on the Floor of the chamber House of Delegates. The students listened intently to both the tour guide's explanation of the history of the chamber, and the Delegate's stories of a day in the life of a Delegate in the General Assembly.
Filler-Corn hopes to continue the tradition with other local elementary schools in the 41st District. "There are nine elementary schools in my district. I look forward to continuing the tradition we started this session for years to come. " Delegate Filler-Corn said.
Burke, Fairfax: Filler-Corn Promotes Child Care Safety in the General Assembly

In the 2016 General Assembly Session, Del. Eileen Filler-Corn (D-41) has offered two bipartisan bills continuing her work in making child care safer in Virginia. Ensuring that child care facilities are licensed, regulated and safe has been a priority for Filler-Corn since 2014, when she first introduced legislation that would close that threshold gap for caring for children in an unlicensed day care, as well as requiring child care providers to go through an extensive background check which includes a fingerprint check to ensure that these providers are fully vetted and are who they say they are. "As a mother of two, I know first hand how stressful it can be to not only find child care, but know that your child is safe," said Filler-Corn.
Last year the General Assembly passed legislation requiring a fingerprint check for licensed providers and those who are unlicensed who care for children receiving a childcare subsidy. This bill becomes effective in 2017. However, loopholes still remain. "If the law is not fixed, Virginia stands to lose $5 million annually through a reduction in federal child care funds," according to Sharon Veatch, executive director of Child Care Aware Virginia.
Del. Filler-Corn's first bill, HB 474, requires the Department of Social Services (DSS) to study child day centers that are licensed and exempt from licensure. Additionally DSS would be required to review all categories of child day programs exempt from licensure, formulate recommendations regarding whether such programs should remain exempt from licensure or whether any modifications that may be necessary to protect the health and well-being of the children receiving care in such programs, consider such other matters as may be necessary regarding health and safety requirements for licensed child day centers, and consult with all relevant stakeholders. Del. Filler-Corn's second bill, HB 500, conforms Virginia's child care background checks with federal requirements.
Both pieces of legislation were heard in the Health, Welfare and Institutions, Subcommittee #3. The subcommittee voted to continue HB 500 into the 2017 session. The full Health, Welfare and Institutions Committee then heard HB 474 on Tuesday, Feb. 9 and referred it to the House Committee on Rules. While the bill was tabled, they did however, direct the Department of Social Services to review both license and license-exempt care.
Burke and Fairfax: House Passes Filler-Corn Legislation Helping Pediatric Cancer Survivors
Delegate Eileen Filler-Corn's (D-41) bill, HB 475 passed the House of Delegates unanimously on Monday. The bipartisan bill requires the Department of Education to review regulations and suggest revisions to existing guidelines relating to a return to learn protocol for students who have been treated for pediatric cancer.
"These students are coming back, often, from a brutal regimen of chemotherapy or radiation or surgery or all of the above. Until now, students who have courageously fought back – against both the disease and the treatment – have had difficulty returning to their classroom. My bill, HB 475 seeks to change that. It will help parents know what questions to ask. It will help schools be prepared for a student's return and most importantly ensure a student's transition back to school is as smooth as possible," said Filler-Corn.
Pediatric cancer survivors can face a bevy of complications upon achieving remission. Cognitive late effects impact attention and concentration, short term memory and processing speed. The physical late effects may include fatigue, low stamina, hearing loss or neuropathy in the hands or feet, along with numerous others. 
Alma Morgan, an educational consultant with VCU Medical Center, who specializes in oncology and hematology patients was extremely pleased with the bill's passage.
"While the survival rate for childhood cancer has improved significantly, we have to be educated on the late effects of treatment and how the late effects impede academic success. Many times these late effects do not show up until several years after treatment…The Return to Learn protocols can educate both staff and parents, as well as address specific modifications and accommodations for all children returning to school following treatment," said Morgan.
The bill builds on Filler-Corn's previous work, when her bill which placed language for a "Return to Learn" protocol into the Virginia Board of Education's concussion guidelines was signed by the governor in 2014. The legislation requires school personnel to accommodate the gradual return to the classroom of a student suffering a concussion. The appropriate time away is based on a recommendation of the student's doctor, in consultation with school administrators.
HB 475 will be heard by the Virginia Senate after crossover on Tuesday, Feb. 16.
Delegate Eileen Filler-Corn Offers 16 Far-Reaching Bills Reflecting Broad Areas of District Concern

Delegate Eileen Filler-Corn (41st District) introduced a series of bills in furtherance of her work in education, victims' rights, health care, public safety and prudent fiscal growth. "My constituents represent ranging views on a myriad of matters," said Filler-Corn. "But those differences are dwarfed by the common hopes for our children. It is from that perspective that I have introduced the following 16 bills for consideration to the General Assembly this year:"
BUILDING A NEW VIRGINIA ECONOMY
HB 660—Angel Investor Tax Credit 
Would improve the already existing angel investor tax credit program open to entrepreneurs. The cap on the maximum amount of credits available to each taxpayer would increase from $50,000 to $100,000.
 
HB 661—Fees on Outdoor Advertising Permits
Would direct the Virginia Department of Transportation to increase application fees for outdoor advertising permits, allowing the program to be self-supporting.
 
HB 662—Low-Cost Open Educational Resources for Higher Education. 
Would allow the State Council of Higher Education of Virginia (SCHEV) to provide grants to encourage low-cost or no-cost open educational resources. This would give college and university students the opportunity to spend less on textbook materials.
 
HB 1092—Amending the responsibilities of the Charitable Gaming Board
Amends the responsibilities of the Charitable Gaming Board to regulate charitable gaming in the Commonwealth and creates a Charitable Gaming Fund to be used for the administration and enforcement of charitable gaming laws.
 
HB 1100—Research and Development Tax Credits 
Would modify the existing research and development expenses tax credit and create a similar tax credit for businesses with related expenses in excess of $5 million for the taxable year. The bill would change the existing tax credit by extending the expiration date from January 1, 2019, to January 1, 2026; establish an alternative computation for the tax credit beginning with taxable year2016; and increase from $6 million to $7 million the maximum amount of tax credits that may be granted.
KEEPING VIRGINIANS HEALTHY
HB 473—Palliative Care Information and Education Program
Would direct the Board of Health to require that every state-licensed hospital, nursing home, and certified nursing facility establish a system for identifying end-stage and long term chronically ill patients and residents who may benefit from palliative care, helping them access treatment that is dignified, humane and appropriate.
 
HB 475—Return to Learn Protocol                                                   
Would direct local school boards to establish a Return to Learn Protocol for the gradual return to academic activities by students who have been treated for pediatric cancer.
 
HB 505—Elderly and Disabled Consumer Direction Waiver Amendment                                                                                       
Would direct the Department of Medical Assistance Services to allow a parent to be reimbursed for providing consumer-directed caregiving services to his or her adult child with disabilities living under the same roof.
 
HB 1103—ABLE Act Amendment 
Would amend the ABLE Act to ensure that all state organizations are exempt from means testing, consistent with federal law.
KEEPING VIRGINIANS SAFE
HB 474—Task Force to Study Unlicensed Child Care
Would require that the Secretary of Health and Human Resources convene a task force composed of child-care providers and other stakeholders to review and make recommendations to the Governor and the appropriate legislative committees on updated requirements for child care providers by November 1st, 2016.
 
HB 500—Criminal History Background Checks for Childcare Providers                                        
Would require Childcare providers to undergo fingerprint-based national criminal-history background checks beginning July 1st, 2017.
 
HB 655—Storage of PERK Kits 
Would require evidence in a sexual assault case to be retained by law enforcement in the jurisdiction where the crime occurred and that Physical Evidence Recovery Kits (PERKs) be retained for a minimum of five years. 
 
HB 658—Prohibit Possession of Firearms if under Protective Order 
Would prohibit anyone bound by protective orders from possessing a firearm.
 
HB 659—Adopt Safe Relationship-Behavior High-School Curriculum 
Would require all high schools to adopt a curriculum that includes relationship behavior, prevention of adolescent- and teen-dating violence, domestic abuse and consent.
 
HB 1102—Trauma-sensitive Training for Sex-Crime investigative Teams 
Would require the Department of Criminal Justice Services (DCJS) establish curriculum and training on Trauma-informed Sexual Assault Investigations by law enforcement and related investigatory personnel.  The training would be multi-disciplinary to include law enforcement, Title IX coordinators and investigators, campus law enforcement, local law enforcement, prosecutors, victim advocates and forensic nurses.
 
HB 1210—Gun Safe Sales Tax Exemption
Would exempt the purchase of biometric and dial-locking gun safes under $1000 from state sales tax, encouraging safe storage of firearms.
Del. Filler-Corn Receives the Jobs for America's Graduates' National Network Leadership Award
Del. Eileen Filler-Corn (D-41) was honored by Jobs for America's Graduates (JAG) with their National Network Leadership Award in Washington, D.C. This annual awards event recognizes a select number of national, state and local leaders for their support of the mission of Jobs for America's Graduates, as well as the activities of their respective state organizations and local JAG programs.
JAG is a national nonprofit organization with state partners, dedicated to preventing school dropouts among young people who are most at risk. Governor Terry McAuliffe and U.S. Rep. Don Beyer both serve on JAG's national board of directors. JAG recognized Filler-Corn for her work as chair of their Virginia affiliated organization, Jobs for Virginia Graduates (JVG), which she has chaired since 2012, succeeding Congressman Beyer. 
The festivities began on Wednesday night in the Kennedy Caucus Room at the Russell Senate Office Building. Following an introduction by Beyer, Filler-Corn had the opportunity to address the crowd. "One of my principal goals for JVG is to become Virginia's 'Program of Choice' for dropout prevention and obtaining good job opportunities for at-risk students," said Filler-Corn. "On a personal level, I am committed to continuing to expand the ability of Jobs for Virginia graduates to reach a growing percentage of the many thousands of our students who remain at high risk of dropping out of school before graduation, and thus become likely to remain on the sidelines of an otherwise growing economy throughout their working lives," she added.
In addition to Beyer, Sen. Tim Kaine and Virginia Secretary of Education Anne Holton also attended Wednesday night, as well as Mississippi governor and current chair of JAG, Phil Bryant. The following day, JAG held its national awards luncheon where Filler-Corn was presented with a plaque commemorating her efforts on behalf of JVG.
White Oaks Hosts "Bring Your Veteran to Breakfast"
On Wednesday, Nov. 11, Delegate Eileen Filler-Corn (D-41) spoke to students, parents and veterans at White Oaks Elementary for their sixth annual "Bring Your Veteran to Breakfast" event. The event honored those individuals in the school community who are currently serving or who have served in the U.S. Military.
Started by Marion Fegley and assisted by fourth grade teacher Charlotte Hoffer and kindergarten teacher and Army veteran Ralph DiBacco, the elementary school's annual breakfast has grown to serve nearly 300 guests, children, parents and veterans alike.
In her remarks to the attendees, Filler-Corn presented Principal Ryan Richardson with a letter from the Virginia Department of Veterans Services Commissioner John Newby. She also recognized all veterans, active-duty men and women, Guardsmen and Reservists in the audience.
"You have gone above and beyond duty, raising your hand to volunteer to defend our nation and freedoms. The Commonwealth thanks each and every one of you, and I thank you and your families," she stated.
Filler-Corn also shared with the group that Gov. Terry McAuliffe (D) announced that day that Virginia has become the first state in the country to functionally end Veteran homelessness. "No one who has served our country in times of war or peace, men or women, active duty or reserves, should ever be left on the streets without shelter or services," she said.
After Del. Filler-Corn's remarks, the attendees were treated to a concert by Downrange, the U.S. Army's Rock Band. Downrange has been entertaining members of the armed services and their families since 2002. When the concert ended, service members and veterans visited classrooms and encouraged the White Oaks students to work hard, listen to their teachers and enjoy learning.
Students thanked their honored guests with cards, showing appreciation for the sacrifices made by the men and women who served our country.
Delegate Filler-Corn Addresses Student Leadership Conference
Last Wednesday, Del. Eileen Filler-Corn (D-41) served as the keynote speaker at the Jobs for Virginia Graduates' Student Leadership Conference in Richmond. She currently serves as chair of the organization.
Jobs for Virginia Graduates (JVG) currently works with over 1,250 high school students in the Commonwealth per year. The program seeks to work with at-risk and disadvantaged youth to graduate from high school and then obtain and keep quality jobs. It is affiliated with the Jobs for American Graduates (JAG) program. Using JAG's model, JVG acts as one of the state's initiatives for decreasing the dropout rate and improving the transition from school to work. JVG works through Virginia's public school system, and together with state employment programs.
In her remarks to the students, Del. Filler-Corn first spoke about her journey to elected office and then addressed the importance of improving the world, finding commitments beyond careers and college, and the values of perseverance and resilience.
"What does it mean to improve the world?" asked Filler-Corn. "Some argue that it means building an ethical society. We improve our world by treating people how they want to be treated and encouraging others to do the same…others argue that improving the world should be a call to action. It's a responsibility. People cannot only focus on creating this model society within their own communities, but they are responsible for the welfare of a greater world at large. I truly take this to heart.
"As the Chair of JVG, it was wonderful to meet many smart and promising students who have already overcome tremendous challenges in their young lives and remain positive and hopeful for achieving a bright future." said Filler-Corn after her remarks.
Del. Filler-Corn's 'CARE Act' Passes the House
Del. Eileen Filler-Corn's (D–41) HB 1413 passed the full House of Delegates on Tuesday, Feb. 3, 2015. HB 1413 or the "CARE Act" addresses the important role of the informal and family caregivers and improved communication with them and medical providers. Specifically, the bill looks to improve healthcare and reduce preventable hospital revisits by having hospitals formally acknowledge a patient's family caregiver at the time of admission and provide critical home care instruction before discharge.
"In Virginia today we know that the majority of older Virginia residents want to live independently at home. Family caregivers in Virginia help their loved ones achieve this. They are there when a person in need wakes up, when they fall asleep and in between. Simply put, they are the bedrock and foundation of our long term care system," said Del. Filler-Corn.
The CARE Act will also strengthen the link between hospital care and home based care, an interface of critical importance that will need continued attention. "Many family caregivers perform a variety of nursing/medical tasks once provided only in hospitals. However, most family caregivers receive little or no training to do these tasks," added Del. Filler-Corn.
Almost half of family caregivers reported they never received training to perform tasks of the kind and complexity once provided only in hospitals. "There is a need for HB 1413 and I believe that it is in the best interest of Virginia to implement this legislation," continued Delegate Filler-Corn.
Most Virginians who receive assistance at home rely exclusively on unpaid family caregivers for help. In fact, family caregivers provide unpaid care valued at about $11.7 billion annually.
"Delegate Filler-Corn understands the critical role family caregivers play in hospital transitions and in keeping their loved ones from being rehospitalized. We are grateful for her leadership. Family caregivers have a big responsibility and this bill will make their lives a little easier," said David DeBiasi, Associate State Director of AARP Virginia.
Eileen Filler-Corn Holds First Mid-Session Office Hours in Springfield
Though Del. Eileen Filler-Corn made headlines in the first week of the General Assembly for her proposed legislation on how sexual assault on college campuses is reported, she was game for any topic at her first mid-session office hours.
The delegate held court on Jan. 24 from 9:30-11 a.m. at Peet's Coffee & Tea in Springfield. She said it offers a much better opportunity than a larger town hall meeting to engage with constituents about issues that are personal to them.
"We don't have an office, this is our office," said Filler-Corn. "I'm always available, but some people are more intimidated by calling or emailing. They know I'll be sitting here."
Burke residents Jane and Reede Taylor didn't know about the office hours ahead of time, but interrupted their breakfast at Peet's to meet Filler-Corn.
"I'm so glad she's out here, seeing what's going on," said Reede. "She's trying to find out, trying to understand."
"I get great ideas for legislation from these," Filler-Corn added, "like my bill helping self-managed homeowners' associations that's now law. That literally came from a meeting like this."
Filler-Corn's next office hours will be Feb. 15, 10-11:30 a.m., at Chesapeake Bagel Bakery, 5719 Burke Centre Parkway, Burke.
Filler-Corn Announces Legislative Agenda
Del. Eileen Filler-Corn (D-41) recently unveiled the legislation she has introduced for consideration by the 2014 General Assembly.
Among Delegate Filler-Corn's legislative priorities are education, public and campus safety, workforce development, childcare safety, creating the new Virginia economy and looking out for our seniors.
Del. Filler-Corn was reappointed by Speaker William Howell to the House Transportation Committee and House Finance Committee for the 2015 General Assembly Session. In addition, she was newly appointed to the House Commerce and Labor Committee. This Committee is responsible for all business, economic development, workforce development and employerrights related legislation.
Among the bills introduced by Del. Filler Corn this week are:
HB 1343 - Campus Sexual Assaults - This bill would require campus and or local law enforcement to report reported instances of campus sexual assaults to the local Commonwealth Attorney within 48 hours of the reported incident.

HB 2047 - Child Care Safety – Currently, child providers that care for 6 or less unrelated children are exempt from state safety regulations, this bill looks to close that threshold gap to ensure children are safe while in the hands of child care providers

HB 1552 Child Care Safety – This bill would require licensed child care providers to go through an extensive background check which includes a fingerprint check to ensure that these providers are fully vetted and are who they say they are.

HB 1327 - This bill would permit individuals 75 years or older or persons with a disability to go to the head of the line on Election Day or when voting absentee between the hours of 9:30 to 4:30 when lines tend to be shorter.

HB 1413 - The CARE Act looks to improve healthcare and reduce preventable hospital visits by requiring hospitals to formally acknowledge a patient's family caregiver at the time of admission and providing critical at home care instruction.

HB 1668 - This bill would give students in all grades the opportunity to be given an expedited retake of the Standards of Learning (SOL) examination, in the event of their failure to pass the initial test.
This is a partial list of legislation. Details on all of these bills as well as the rest of the bills and budget amendments Del. Filler-Corn introduced this week and their status in the legislative process can be found at lis.virginia.gov under Del. Filler-Corn's name.
It was an honor and privilege to join Sheriff Kincaid, the 40 plus Deputies and the incredible children participating in the Shop With A Sheriff program last week. It was inspiring to watch the hard working Sheriff and so many Deputies give more of their time to provide opportunities for these kids.  It was heartwarming to watch the excitement in the kids' eyes as they were afforded the opportunity to do some back to school shopping. It was hard for many to contain their excitement as they selected, shoes, sneakers, socks, undergarments, coats, jeans and wallets for their newly acquired IDs from the Sheriff's office. I spoke with many of these kids and they expressed their desire to return to school and their classroom as soon as possible!  I look forward to participating annually to support these well deserved children in our community. Great job Sheriff Kincaid on a well run, much needed and impressive program.
You can watch news coverage here. 
Workshop Promotes Science Education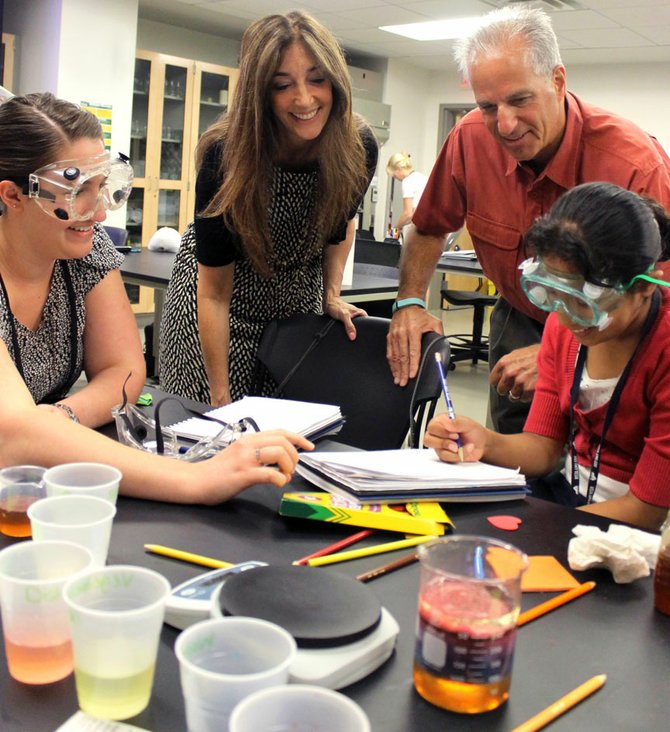 On Tuesday, July 15, the Virginia Initiative for Science Teaching and Achievement (VISTA), in conjunction with the George Mason University College of Education and Human Development, held a day-long program that focused on advancing science education in Fairfax County schools.
The workshop was an opportunity for both students and teachers to gain a better understanding of science education and instruction. The program also focused on enhancing the comprehension of scientific subjects by all students, including those with special needs. A major objective is to maximize the quality of elementary science education by increasing the number of certified middle school and high school science teachers.
Del. Eileen Filler-Corn (D-41) joined the participants in witnessing firsthand the efforts of VISTA and GMU in fostering science education throughout the state. "I was incredibly impressed by the program that VISTA organized, bringing together students and teachers to enhance their knowledge and teaching ability of science based material. STEM degrees are preparing our children for the jobs of the future. VISTA has recognized this and is aiming to give Virginia students the best chance of succeeding going forward," said Filler-Corn.
Similar all-day workshops have also been held at Virginia Tech in Blacksburg, at VCU in Richmond, and at William & Mary in Williamsburg. In the Fairfax program, the students tackled a real-life scenario of construction run-off causing dead zones in the Chesapeake Bay that are no longer able to sustain natural habitats. The students' objective was to develop methods for mitigating the environmental impact of construction at George Mason University on the Chesapeake Watershed ecosystem.
Del. Filler-Corn added, "These impressive students are examining real problems facing our communities and the Commonwealth as a whole. With the assistance of certified science instructors and an increased emphasis on STEM education, VISTA is helping ensure that these real-world challenges can be addressed by our next generation of leaders. I was pleased to be able to join them and I look forward to continuing my involvement with VISTA's efforts in the future."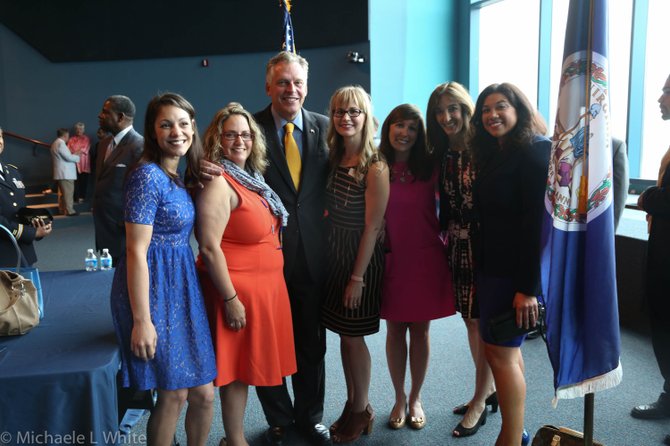 Governor Terry McAuliffe and Virginia Secretary of Veterans and Defense Affairs, Admiral John Harvey held a special ceremony to sign into law several pieces of legislation affecting the military community. Over ten pieces of legislation were signed into law during a ceremony held in Norfolk, Va. right outside of the USS Wisconsin. These pieces of legislation were passed during the 2014 General Assembly and took effect July 1.
Virginia has one of the largest active-military populations, second only to California and the most military civilians by state. Several of the bills focused on helping military families moving to the Commonwealth with their normal services and job transition. Among those were HB 1247 introduced by Del. Eileen Filler-Corn (D-41). HB 1247 requires the Department of Professional and Occupational Regulation to expedite the review process for temporary licenses for military spouses that already hold the equivalent license in another state.
Other legislation aimed to help military families and spouses were HB 576, increasing eligibility into Virginia Military Survivors and Dependents Education Program, SB138, increasing the grace period of vehicle safety inspection approval for certain members of armed services and SB18 which extends unemployment compensation to military spouses voluntarily leaving their job to accompany their spouse in reassignment.
"It was an honor to join my colleagues, the Governor and Admiral Harvey to sign these critically important pieces of legislation into law. I look forward to continuing to advocate for military families and I hope my bill eases the burdens on military spouses associated with reassignment," said Delegate Filler-Corn.
Del. Filler-Corn Appointed to State Commission on Intergovernmental Cooperation
Del. Eileen Filler-Corn (D-41) was appointed to the Virginia Commission on Intergovernmental Cooperation in April. This Commission is comprised of members of the General Assembly to promote the Commonwealth's interest between other states and the federal government. The Commission formulates proposals for cooperation between Virginia and other states as well as formulating proposals concerning interstate contracts and conferences. Additionally, the Commission monitors and makes recommendations concerning federal policies that are of concern to the Commonwealth.
"My personal and professional experience gives me great insight into intergovernmental relationships as well as between the Commonwealth and the federal government. I can use this experience to promote the Commonwealth and increase our standing as one of the best managed states" said Filler-Corn.
Delegate Filler-Corn has served as Deputy Director of the Virginia Liaison Office under Mark Warner during his term as Governor. There she served as a contact between Virginia, the U.S. Congress, other state offices and other state governments. Filler-Corn then served as Senior Advisor for State and Federal Relations in Governor Tim Kaine's Administration.
Del. Filler-Corn has been appointed to a term that will coincide with her term in the Virginia House of Delegates.
 _____________________________________________________________________________________________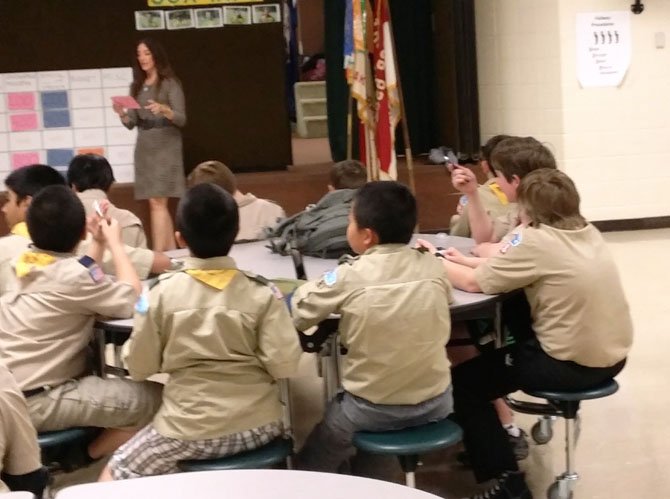 Del. Eileen Filler-Corn (D-41) recently met with Scout Troop 698 of Burke to discuss the important role civics and community participation plays in government and community development. Del. Filler-Corn and the group even played Virginia jeopardy, testing the Scouts knowledge of the House of Delegates and everything Virginia.
"I truly enjoy spending time out in our community, meeting with many groups throughout the 41st district. I continue to be inspired by so many individuals who regularly work to help make our community a wonderful place to live. I am especially energized by meeting with groups of young people. These young scouts were quite impressive, knowledgeable and inquisitive. I know the future of the Commonwealth will be better off with their leadership in he future," said Del. Filler-Corn.
The Scout Troop 698 of Burke is led by Scoutmaster Mike Koehler of Burke and the event was organized by Eagle Advisor Heather Zdancewicz.
Del. Filler-Corn passes legislation to help constituent homeowners' associations.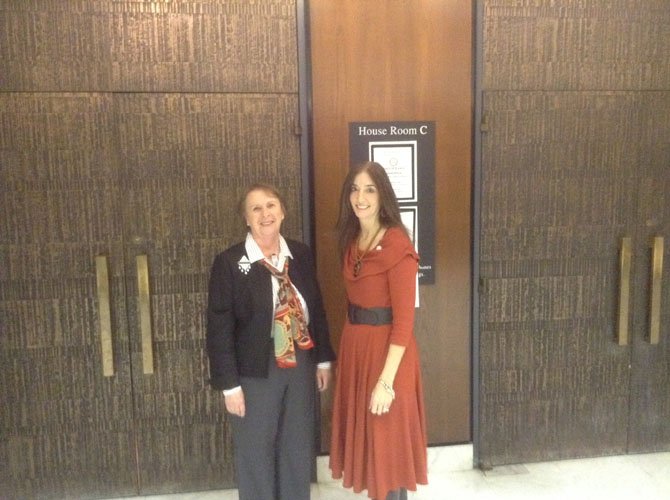 Del. Eileen Filler-Corn (D-41), working with constituents, has spearheaded legislation aimed at helping many residents of her district and across Virginia. The 41st District contains several self-managed homeowners' associations, made up of volunteers in the community working in the best interests of their shared neighborhood.
Currently, the Code of Virginia requires that all homeowners' associations respond to a written records request within five business days. While five business days is an ample amount of time for a HOA that has a common interest community manager in charge of association management, these requirements often represent a burden and problem for self-managed communities.
HB 550 extends the time for self-managed unit owners' associations to respond to a written request for information from five days to ten days. "By doubling the time allotted to return requested information by self-managed Associations, we are providing flexibility and added convenience for these organizations", said Del. Filler-Corn. "Self-managed communities are run by volunteers in the community who have dedicated time to help their neighborhood. The governing members of these associations often have full-time jobs, which can require significant commitments, including travel. Therefore, it is not always possible for these associations and their members to respond to these requests within five days."
Tena Bluhm, a 41st District resident of Fairfax and local homeowner association president worked with Del. Filler-Corn on this legislation. "The present five day time frame to produce copies of an association's books and records places an unreasonable burden on such an association. The passage of HB 550 will greatly relieve the burden and help self-managed associations remain in compliance with the Code of Virginia," said Bluhm.
"These community associations are the lifeblood of many towns and counties across the Commonwealth. I know the important role they play in my district, and I highly value their input and opinion," said Filler-Corn.
HB 550 was supported by the Virginia Legislative Action Committee which is a committee of Community Associations Institute and the Virginia Realtors Association.
Del. Eileen Filler-Corn's bill, HB 550, was signed by Governor Terry McAuliffe on March 7 and will take effect on July 1.
House Bill 1247, aimed at reducing burdensome red tape for military spouses, has passed the House of Delegates and Senate with unanimous bipartisan support and now awaits signature from the Governor.  Sponsored by Delegate Eileen Filler-Corn (41st District) and supported by the Administration, HB 1247 would require the Department of Professional and Occupational Regulation to expedite the review process for temporary licenses from 30 to 20 days for military spouses that already hold the equivalent license in another state.
"Our military servicemen and servicewomen sacrifice so much for their country every single day. Many military spouses are often forced to leave successful careers behind and face excessive red tape preventing them from resettling in their chosen profession upon relocation. This bill aims to ease that burden."
Virginia currently employs the second highest number of active-duty military out of the 50 states.  A wide variety of professionals are required to have state-issued licenses in order to work in their field. This bill affects everyone from realtors, barbers, accountants, to construction workers.
"Every day that military spouses must wait to receive a license for a profession that they are already approved to practice in another state is another day that they are unable to earn income, support their family, and contribute to Virginia's economy" said Filler-Corn. "This bill will reduce the time it takes for military spouses to receive temporary licenses for their professions, thereby dramatically reducing their financial and emotional burdens."
------------------------------------------------------------------------------------------------------------------------------------------------------------
Eileen Filler-Corn meets constituents over bagels and coffee
By Janelle Germanos Friday, February 21, 2014
Residents of the Burke area visiting local bagel and coffee shops may have found themselves meeting a busy state legislator over the last couple weeks.
Delegate Eileen Filler-Corn (D-41) has been holding office hours at locations such as Caribou Coffee and Einstein Brothers Bagels in order to connect with constituents and listen to their concerns.
The General Assembly recently passed Crossover Day, when all bills that originated in the House switch to the Senate, and vice versa.
As the legislative session moves on, Filler-Corn said her office hours are a great way to meet with her constituents in person.
"Sometimes they have personal issues that they want to talk about. Other times, if we have four or five waiting, we'll all sit at one table and talk, but sometime they just want to talk privately," Filler-Corn said.
Filler-Corn said the topic of conversation really depends.
"I'd say education is a big one in the 41st district. SOL reform has been very big," Filler-Corn said.
SOL reform and education have been major issues this session and are often brought up by constituents at her office hours, Filler-Corn said.
"We have some of the best schools in Fairfax County," Filler-Corn said. "I think we are moving in the right direction with our SOL reform. A lot of folks want to talk about education."
Medicaid Expansion is another major priority for Filler-Corn.
"Closing the coverage gap is really a better way of saying it. Just focusing on individuals- 400,000 working Virginians don't have insurance. We can do something about it, and we really just need to act now. Why not take the money? We're losing five million dollars a day by not accepting federal money," Filler-Corn said. "I would say that's the number one issue."
According to Filler-Corn, constituents also bring up ethics reform at office hours.
"We spent a lot of time going over some of the current events of what transpired and specific laws and restrictions. We want to know what we can do to ensure the public's trust, and what will that take," she said.
Burke resident Rosemarie Kirwan said that ethics and voting reform are the most important issues in Virginia.
Kirwan, who said she has been in activist mode lately, is a major supporter of having more women elected to office.
"I think more women in government is better for society," Kirwan said.
---------------------------------------------------------------------------------------------------------------------------------------------------------------
Legislation was introduced by Northern Virginia lawmakers Delegate Scott Surovell and Delegate Eileen Filler-Corn.
Posted by Mary Ann Barton (Editor) , February 07, 2014
The Virginia House of Delegates has voted 95-0 in favor of legislation to freeze the credit of minors to protect them from predatory credit card offers and identity theft.
The legislation was introduced by Northern Virginia lawmakers Del. Scott Surovell and Del. Eileen Filler-Corn.
Identity theft of children is a growing problem in the United States. Identity theft affects 30 million Americans, and approximately 500,000 of those cases are young people. Identity thieves increasingly target children because nobody generally discovers their actions until years later when a child becomes an adult, so that number is likely underreported. 
This legislation would make Virginia one of the first states to adopt a minor credit freeze law, allowing a parent to freeze the credit of a child so that no person can seek credit under their name. 
Surovell introduced legislation after his children, ages 13 and 11, received credit card solicitations in the mail. 
"This is a major step for consumer protection in Virginia," said Surovell. "Credit card companies should not be soliciting business from eleven year-old children and creating opportunities for identity thieves." 
• HB543: Security Freeze for Protected Consumers: Allows the parents or guardians of a minor (16 years and under) to request that a consumer-reporting agency place a security freeze on the protected consumer's credit report. 
"I introduced this bill to protect children throughout the Commonwealth of Virginia, said Delegate Filler-Corn. "It is my hope that this legislation will go a long way in protecting our children from the dangers of credit fraud and identity theft, while giving peace of mind to parents." 
Surovell and Filler-Corn introduced separate, identical legislation to protect the credit of minors and Surovell is a chief co-patron of Filler-Corn's bill. 
---------------------------------------------------------------------------------------------------------------------------------------------------------------
Del. Eileen Filler-Corn, who represents Burke and the 41st District, has been advocating for more open education resources for Virginia college students.
Bill HB 1777, which was submitted earlier this year, aims to create an Open Education Resource Council tasked with developing and acquiring open education resources that could be provided at no charge to students. OER materials are textbooks or other auxiliary resources developed and produced with no copyright restrictions. This makes them available for anyone to access and use at their disposal. University professors often develop these materials, which are also peer reviewed for accuracy.
"Several states are currently utilizing OER materials as a way to reduce cost burdens on their students. These books are available at no charge and accessed digitally at the student's convenience. This is an excellent method to increase affordability, while still providing accurate information and quality material," said Filler-Corn.
The bill was referred to the Joint Commission on Technology and Science during the 2013 General Assembly session and has drawn wide interest from different parties.
In an effort to continue the year-long conversation about OER, Filler-Corn recently co-hosted a forum on Dec. 2 with David Anderson, Executive Director for Higher Education at Association of American Publishers and Nada Dabbagh, Professor and Director of Division of Learning Technologies at George Mason University (GMU) to discuss new technologies and affordable options for higher education textbooks. This forum brought together several important stakeholders involved with higher education and the development and usage of textbooks.

"I was honored to lead this forum that continued the vital discussion of how we can reduce costs for our students and families through the use of new technology and resources in textbooks and class materials," said Filler-Corn. "We have continued to see a rise in the price of textbooks and other auxiliary materials in higher education. We need to use new resources as a way to reduce costs and ensure that students are getting the most out of their higher education."

The forum discussed using these technologies at both Virginia universities and colleges as well as in the Virginia Community College System (VCCS) where many students are turning to save money by avoiding the tuition costs of a four year university. Representatives from George Mason University, the State Council of Higher Education for Virginia (SCHEV) and the VCCS attended the forum to add their input on the idea. Additionally, representatives from the major textbook publishers and Fairfax County Public Schools were also in attendance.

"It is my hope that this forum can continue to move forward the discussion of OER digital textbooks in the Commonwealth. As leaders and policy makers, it is our responsibility to look at the current system and find areas that need improvement," said Filler-Corn. "The rising cost of college continues to need to be addressed and I believe this can be a way of alleviating some of the financial burden on our students and their families."
Editor's note: Thanks to Del. Filler-Corn's office for providing much of the background information on the forum.
-------------------------------------------------------------------------------------------------------------------------------------------------------------- 
Q&A with Delegate Eileen Filler-Corn (D-41).
Springfield Connection
Transportation funding was one of the big stories to come out of Richmond during the 45-day "short session," but it wasn't the only one.
Unlike Congressional gridlock, where lobbyists, special-interest groups and political aspirations converge to slow down legislation, the pace in Virginia's capitol is fast and furious. Legislation gets passed in the blink of an eye. It's a pace Delegate Eileen Filler-Corn, the second-term Democrat representing nearly 90,000 residents in Burke, Fairfax and West Springfield, knows well.
Before she became one of the few women serving in the Virginia House, she learned to navigate the political process in Richmond during her tenure as deputy director of the Virginia Liaison Office in Washington for Governor Mark Warner, as well as a senior advisor to Governor Tim Kaine. She also chaired the National Governors' Association Executive Committee Staff Advisory Council during Governor Warner's term. At the beginning of the 2013 General Assembly, she introduced 13 bills for consideration. Her legislative priorities included education, transportation and public safety. She also introduced legislation focused around cutting college students' expenses, expanding voting hours, protecting children and protecting funding for Virginia Railway Express.
Q: What drove your legislative agenda this session?
A: With a short session, I decided to introduce important legislative proposals that would make a difference for the 41st District and across the commonwealth. It is always my priority to reflect the views of my constituents and address the issues that affect our community.
Like every legislative session that I have participated in, I dedicate the nine or 10 months away from Richmond speaking to constituents in my district about legislative ideas, their concerns and issues they have noticed in the community. Every day I strive to reflect the voice of my district and help those in our area that may need state-related assistance.
Q: Bullying is a hot topic for every parent. What motivated you to sponsor the legislation on that issue?
A: HB 1871, which I was proud to co-patron, defines the term "bullying" as any aggressive and unwanted behavior that is intended to harm, intimidate, or humiliate the victim. It also requires schools to establish a prohibition against such behavior and adopt policies to create a bully-free environment. This was important legislation in order to establish a clear and legal definition of bullying and to help prevent it in our schools. Too often today we hear about tragic instances of bullying gone too far and this legislation takes another step forward to prevent another unfortunate event.
Q: What were the most important pieces of legislation this session?
A: This session saw two of the most important measures passed during my time in the House of Delegates. The final day of the Legislative Session was a historic one for the commonwealth. A new comprehensive transportation package passed and is awaiting the governor's signature. In addition, the budget passed and included Medicaid expansion. Both of these measures underwent considerable revisions and compromise throughout the seven weeks of extensive debate and consideration. I supported the transportation plan, which will generate $880 million annually for statewide transportation funding, and provide another $350 million for Northern Virginia transportation projects. In addition, this bill provides dedicated funding for mass-transit and inter-city passenger rail and includes $300 million for Phase II of the Dulles Silver Line metro. I feel strongly that the benefits represented by this comprehensive plan successfully help address our area's transportation needs, however I did not agree with every aspect of the transportation package. I was disappointed in the $100 fee that was included for hybrid vehicles, a provision that I opposed. It is my hope that removing this specific provision will send a message to the 91,000 Virginians that drive these vehicles, including many in my district, that we applaud their effort to help sustain our environment while reducing our dependence on foreign fuel. I have spoken to the governor about this issue and followed up with a letter requesting that this portion of the bill not go into effect.
Additionally, the General Assembly passed the budget, which agreed on a way forward to expand Medicaid coverage to nearly 400,000 additional Virginians desperately in need of adequate health care options. Included among the approved budget amendments was a commitment to allow Virginia to opt into the federal Medicaid expansion program once it is determined that appropriate reforms are in place. With the federal government paying 100 percent the first three years and 90 percent thereafter, Virginia will save $317 million over a five-year period on Medicaid costs.
I am now optimistic that we can focus more of our efforts on improving our schools, creating new jobs, expanding economic development and furthering our reputation as one of the best states in which to raise a family and establish a business.
Q: What was your biggest disappointment this session?
A: Again, this session, little progress was made on many important issues such as education, women's health rights, gun safety and voting rights.
My bill, HB 1774, which would have extended voting hours from 7 p.m. to 8 p.m. for the benefit of commuters and all voters, did not advance out of subcommittee due to a lack of funding and registrars that said they are overworked.
In fact, a number of bills were passed that will make voting more difficult rather than easier for voters. Legislation was passed that requires photo identification in order to vote, which will negatively impact voters who do not have a birth certificate and will force voter registrars to purchase costly equipment to provide a substitute ID for those who request it. Another measure that passed requires the use of a federal scanning database to remove non-citizens from the voting rolls, even though this database has proven faulty and prevented some naturalized citizens from exercising their right to cast a ballot.
Additionally, my bill HB 2199 did not advance from the House Appropriations Committee after being referred by the Education Committee. This bill was intended to increase the numbers of students eligible for expedited retakes of the Standard of Learning tests given to the commonwealth's public school students. Currently, only high school students are allowed to take retakes if they score within 25 points of the passing score. Students may not pass their SOLs for a variety of reasons, and they should be given a chance to retake them. Moreover, it is important to instill confidence, particularly in our younger children, who may be negatively impacted if they do not have the opportunity to retake a failed SOL test. This legislation was supported by the Superintendents Association, several County School districts including Fairfax, and the Virginia Education Association. It is my hope that this bill can advance next year using a different approach through a budgetary amendment.
Q: Describe your experience as a woman in the House of Delegates.
A: I serve with only 18 other women in the Virginia House of Delegates and I believe I am only one of two moms with school-aged children. I believe women can bring a different perspective and quality to the state capitol, one of consensus building, "getting things done" and cooperation. Our perspective, experience and ability to engage and inspire are unique characteristics which can be helpful in Richmond. With the recent women's health issues debated over the past two years, it is even clearer to me the need to elect good, smart, quality women to the General Assembly.
In recent years, such outstanding women members of the General Assembly including Delegate Vivian Watts and Senators Janet Howell and Toddy Puller, with whom I am now honored to serve, have set a very high example for the 25 current female members of the General Assembly. In this regard, I have always strongly encouraged women, who are interested in becoming candidates to do so, and I frequently speak to such groups as the Girl Scouts about the importance of civic duty and the opportunity to serve their community and address major women's issues.
Highlights of Del. Filler-Corn's session:
Details on all of Del. Filler-Corn's bills and what happened to each bill can be found at lis.virginia.gov under her name.
HB 1778—Informing women of increased risk of breast cancer due to dense breast tissue. This bill requires doctors to include information of the increased risk of breast cancer due to dense breast tissue on a mammogram, describing the potential link to cancer. This bill builds on legislation that was signed into law last year and is an important step forward for women's health. The additional screening and procedures that many women will undergo following a consultation and notification from their mammogram about dense breast tissue can be life saving. This bill passed the House and Senate unanimously and now awaits the governor's signature.
HB 2041—Allows the Recreational Access Fund to utilize guidelines instead of regulations to fund access roads and bikeways to public recreational areas and historical sites. This bill replaces language that requires the Commonwealth Transportation Board (CTB) to adopt regulations for administrating the Recreational Access Fund, with language authorizing the CTB to utilize guidelines instead. This streamlines the Recreational Access Fund's administration and improves government services to Virginians, while still allowing for the public's involvement in the decision making process. This bill passed both the House and Senate unanimously and awaits the governor's signature.
HB 1777—Creating an online database of free textbooks for college students. This bill would reduce costs for college students and their families by creating an online database where they can access digital versions of up to 50 textbooks at no charge for some of the most common prerequisite courses. It also would create an open source digital library. The bill has been referred to the Joint Commission on Technology and Science (JCOTS), which will bring together interested stakeholders to discuss all of the aspects and concerns relative to this proposed legislation and thus hopefully move this bill forward in the future.
HB2201—Require the installation of carbon monoxide detectors in all new public school construction and rehabilitation of existing public schools. This bill would protect children from the dangers of potentially deadly leaks by requiring carbon monoxide detectors in all new school construction and any renovations of existing schools. After discussions with the Department of Community and Housing Development (DCHD) it was determined that the best route of action for this proposal was via the regulatory process through DCHD. Therefore, at my request, the DCHD is now reviewing regulatory action with regard to implementing this important requirement in all new schools as well as those undergoing structural renovations.
HB1782—Protecting children from dangers of concussions. This bill would require third-party organizations using public parks and schools for sporting events to adopt concussion guidelines in accordance with Virginia requirements or from the locality where the event is being held. This topic and issue will now be sent to the Joint Commission on Health Care for their 2013 study plan.
HB 1774—Making it easier for citizens to vote. This bill would have extended voting hours by an additional hour, until 8 p.m. on Election Day. The proposal would have made it easier for workers, commuters, caregivers and young people to participate in the voting process by providing more time to get to the polls. Although the bill did not advance, it sparked important conversation among legislators, election officials and citizens.
 --------------------------------------------------------------------------------------------------------------------------------------------------------------
2013 General Assembly Press Release
For Immediate Release:
January 18, 2013
Delegate Eileen Filler-Corn unveils legislative agenda and is appointed to House of Delegates Finance Committee
RICHMOND, VA – Delegate Eileen Filler-Corn (D-41st District) unveiled the 13 bills that she has introduced for consideration by the 2013 General Assembly.  Members of the House of Delegates may introduce a maximum of 15 pieces of legislation during this year's 45-day session.
Among Del. Filler-Corn's legislative priorities are education, transportation and public safety.  She will also focus on cutting college students' expenses, expanding voting hours, protecting our children and promoting a healthy lifestyle for all adults. She stated "With a short session, I decided to introduce important legislative proposals that will make a difference for the 41stDistrict and across the Commonwealth. It is my priority to reflect the views of my constituents and address the issues that affect our community."
Delegate Filler-Corn will also have a new Committee assignment in the 2013 session.  In addition to her two previous standing House Committees (House Transportation and House Militia, Police and Public Safety), she has now also been appointed by Speaker of the House, William J. Howell, to serve on the House Finance Committee as well.
The House Finance Committee, which dates back to 1624, is responsible for overseeing state revenue and taxation issues.  Under the chairmanship of Del. Harry R. Purkey (R-Virginia Beach), this Committee is currently comprised of 15 Republicans and 7 Democrats.  Del. Filler-Corn stated "I am honored to have been appointed to the House Finance Committee. This important and historic Committee is vital to the operation of the Commonwealth.  I look forward to working with my colleagues on both sides of the aisle to develop solutions to the fiscal challenges currently facing the Commonwealth."
Among the bills introduced by Delegate Filler Corn this week are:
HB 1774      Would extend voting hours to 8 p.m. from the current closing time of 7:00 p.m., make voting more convenient for individuals that spend significant time commuting
HB 1775      Would give any woman the right to opt-out of the mandatory ultrasound procedure that is costly and often medically unnecessary.
HB 1776      Would waive the penalty on physicians who choose not to perform an unnecessary ultrasound procedure against their medical judgment and training.
HB 1777      Would alleviate costs for college students and their families by creating an online database where they can access digital versions of up to 50 textbooks at no charge for some of the most common prerequisite courses.
HB 1778      Would require that doctors provide female patients with information on dense breast tissue describing the potential link to cancer and that additional screening procedures may be necessary.
HB 1779      Would waive the monthly electronic E-Z pass fee after 10 uses in that month
HB 1781      Would make it a felony for individuals to knowingly take advantage of an elderly individual's finances.
HB 1782      Building on past legislation, this bill would protect our children by ensuring that all parties using public school facilities are aware of Virginia's guidelines for the diagnosis, care and treatment of concussion injuries.
HB 2024      Would help individuals taking the right steps towards a healthy lifestyle if, during wellness check fully covered by insurance, it becomes necessary to perform a diagnostic procedure, the patient would only be responsible for the additional cost of that procedure.
HB 2041     Would improve the Recreational Access Fund by streamlining and moving rulemaking away from regulations to guidelines, allowing improvements to be made in a timely manner.
HB 2201      Would require that Carbon Monoxide detectors to be installed in all new public school construction and rehabilitation of existing public schools.
HB 2199      Would give students in all grades the opportunity to be given an expedited re-take of the Standards of Learning (SOL) examination, in the event of their failure to pass the initial test.
HB 2297      Would restore the dedicated federal funding to the Virginia Railway Express (VRE) for track usage fees, for the benefit of our communities.
Details on all of these bills and their status in the legislative process can be found at lis.virginia.gov under Delegate Filler-Corn's name.
###